Paladin Howitzer M109A6 vehicle
Boston, MA, October, 2009
Mechatronics Systems successfully delivered to the US Army electric motors employed to control the gun of the Paladin Howitzer M109A6 vehicle. The company is pleased to expand our technology expertise into the military marketplace and supply the war fighters with innovative reliable product. Mechatronics Systems developed and produced this high performance electric motor at their factory in Boston, MA. Founded in 1992, the company designs, manufactures and markets standard and custom build to order electromechanical components and drive electronics. Our success is based on the fast turnaround, low cost quality product and innovative technology developed for high reliability and mission-critical applications.
Supported electro-magnetic equipment includes:
Spring Applied Brakes with custom manual release
Brush DC motors
DC and AC Brushless motors
DC brush and brushless tachometers
Brush DC and AC brushless Servo Drives
Integrated brushless motors and drives in one module.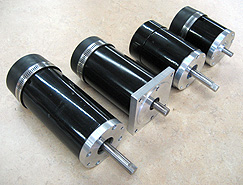 Bridgeport Servomotors
Boston, MA, February 28, 2010
Potomac Services has extended OUR line of servomotor replacements for Bridgeport CNC milling and lathe machines. The new MTX40110.CF motor is a new addition to the family and is designed to work in EZpath lathes. It offers high performance modern design utilizing state of the art rare earth magnets. Please refer to our Bridgeport page for the information on other Bridgeport servomotors.
All our products are designed and manufactured in the USA at our factory in Boston, MA.
Contact us at our Inquiry and Quotes page for pricing and delivery.